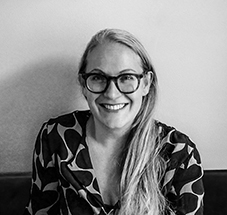 Juliane Kahl, Founder and Director

Prior to completing her MA in Fashion Futures at the London College of Fashion, Juliane Kahl has more than 15 years work experience as a creative strategist, producer and stylist in the creative industry with several high-profile clients such as Adidas, HSBC, Mercedes-Benz, Nike, Sky and Virgin.

As her main interest is on Sustainability with a focus on new Technologies, Juliane Kahl's work practice processes new modules and methods for educational institutions.

Additionally she develops and prototypes digital strategies for the implementation of AI and Blockchain Technology to create transparent productions and consumption in the fashion and lifestyle industry.

As Head of the Student Academy of the Umwelt Akademie e.V. Munich, she promotes and connects the development, implementation and evaluation of sustainable research projects.

In 2016 Juliane Kahl organised and facilitated the first fashion Hackathon in East Africa, in Addis Ababa. Throughout this postgraduate research project at the London College of Fashion, the participants and mentors experimented with different additive manufacturing techniques to find open-source
alternatives to the zipper technology.
This project was supported by the Procter & Gamble x London College of Fashion 'Better Lives' Award.

Her latest research project, a collaboration with the Architecture Galerie München, focuses on the traditional culture of weaving. This projects objective explores new applications and forms of design through the weaving of different techniques and materials in the areas of Fashion, Design and Architecture in Addis Ababa, Ethiopia.
This project will be exhibited at the state Museum of Textil- und Industry in Augsburg, Germany in the summer of 2019.